Online World Yo-Yo Contest 2022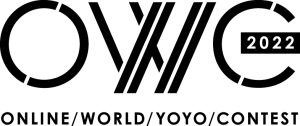 After the excitement and great show of skill at last year's online contest, we are happy to announce that, yes, we will be holding OWYYC2022! Since we're still not able to have a WYYC in person yet, this is your big chance this year to put together a competitive yo-yo freestyle and go up against the rest of the global yo-yo community. It will take place starting in the summer of 2022 and go into fall. We hope you'll look forward to an event that will satisfy not only yo-yo competitors, but spectators and fans alike.
For those just tuning in, Online World Yo-Yo Contest 2022 is an IYYF officially sanctioned online contest open to yo-yo players worldwide. This is your chance to take part, especially if you've never been to WYYC or entered a contest before, or don't usually have the means to travel far to a physical contest. We hope to see entries from many new contestants from all over the globe!
Here is a quick list of changes from last year! Please check if you are interested in competing:
Changes from last year:
Prelim and Final only (No Semi-Final)

Final is 2 minutes (instead of 3 minutes)

4 evaluation categories for Final (same as Prelim: Execution, Control, Body Control, Music Use)

No live sound needed on the video

No edits allowed on music (Prelim & Final)

New music content standards (details coming soon)

Final music must come from IYYF library or certain web sites provided by IYYF

Here is a summary of our contest plans:
Name: Online World Yo-Yo Contest 2022 ("Online Worlds")
Hashtag: #OWYYC2022
Timeline (tentative):
In June: More details are coming
August 21: Prelim Submission starts
September 1: Prelim Deadline
October 1: Prelim Results / Final Submission starts
October 10: Final Deadline (Also, Women/Over 40/AP)
November 12: Final Results
* The timeline is subject to change
Contest Divisions:
1A Division
2A Division
3A Division
4A Division
5A Division
AP (Art & Performance) *Video edits allowed
Women's Freestyle
Over 40 Freestyle
*Contestants can compete in multiple divisions.
Awards:
Champion will be the "Online World Contest Winner," not "2022 World Champion"
Seeding to WYYC2023

1A-5A Division Champions seed to the WYYC2023 Semi-Final Round
Top 10 finalists of 1A-5A Divisions seed to the WYYC2023 Prelim Round

More details to be announced soon.
Contest Format:
1A-5A Divisions:
Same rules as WYYC
Prelim: 1-minute freestyle
Final: 2-minute freestyle
AP:
Women / Over 40:
Same rules as WYYC2019
Final only: 2-minute freestyle
Submission deadline is the same as 1A-5A Final round
You must be 40 or above on August 31, 2022 in order to compete in Over 40 Freestyle
Music Rules:
Prelim: Music provided by IYYF only (Library will be updated soon. Some music will be removed/added.)
Final: Music provided by IYYF or music from the web site we provide a list of (List will be announced shortly)

No editing (even length adjustment) is allowed.
Entries with any other music will NOT be allowed.
Those are the basics. We will announce more details soon, but take this as a sign that you can start practicing and working on your freestyles! We're so excited to see what everyone brings to the table!
We're looking forward to your participation in the Online World Yo-Yo Contest 2022!
Official Web site will be updated soon.