SEEDING RULES 2017
Here is the structure to get a Seed spot to the Prelim, Semi-Final, and Final Rounds. All other contestants who do not fit the criteria below must compete from the WildCard Round.
World Yo-Yo Contest 2016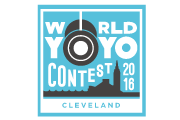 The 1A-5A & AP Division Champions of "World Yo-Yo Contest 2016" held in Cleveland, Ohio, USA, last year will be seeded into this year's Final Round.
Multi National Contests (MNC)
The Top 3 of 1A-5A Divisions from the Multi National Contests will be seeded into the Semi-Final Round.
MNC's Qualified for WYYC2017
AP (Asia-Pacific Yo-Yo Championships)
EYYC (European Yo-Yo Championship)
Also, if a contestant from a country which does not have a National Contest places in the Top 10 at an MNC, the contestant will be seeded to the Prelim Round.
National Contests (NC)
All 1A-5A Division National Contest Champions will be seeded into the Semi-Final Round, and their Top 10 will be seeded into the Prelim Round.
Qualifying Countries and Territories
Australia
Austria
Bulgaria
Brazil
Brunei
Canada
China
Czech Republic
Finland
France
Germany
Greece
Hong Kong
Hungary
Indonesia
Israel
Italy
Japan
Malaysia
Mexico
Philippines
Republic of Korea
Poland
Russia
Singapore
Slovakia
Spain
Taiwan
Thailand
United Kingdom
United States of America
Vietnam
For Special Cases (Dual Citizenship, Living in Another Country)
Please check the details in the pages below.
Change in WYYC15 seeding from Multi-National Contests